Archive News
Blackpool Table Tennis Cup Final Results 2018 - 2019
(April 19, 2019)
---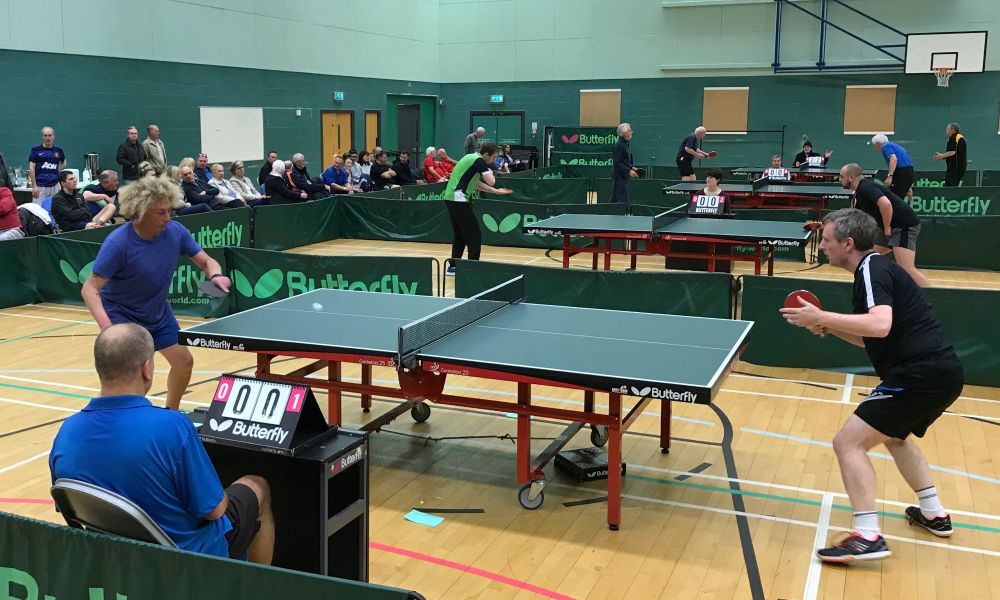 Blackpool Table Tennis Cup Finals 2018 - 2019
Played on Wednesday 3rd April 2019 at Palatine Leisure Centre
Gazette Cup - Premier Division
Carleton (Wr) v Mythop Leisure (Ru)
Carleton (Brian Oldfield, Martin Ireland, and Phil Crankshaw) and Mythop (Tim Young, Willy Fluss, and Jon Ash) first teams locked in a battle that took all nine games to decide. Carleton's Brian and Phil each won two games and Martin one to take the cup. The match started with a five setter, and Brian taking the honours for Carleton against Willy. In another five set tussle Jon emerged the victor against Martin. For Mythop, Jon won all three of his games, and Tim won one. Well played both teams
Hughes Cup - 1st Division
Holy Trinity A (Wr) v Moor Park A (Ru)
Holy Trinity A (Ian Logue McEwan, Isaac Fluss, and Mariusz Pakula) took on Moor Park A (Brian Jackson, Lyndsey Simpson, and Harry Heywood). Holy Trinity, were too strong for Moor Park and emerged 7 -2 winners. Isaac and Mariusz both won three games while Ian won one. A special mentions for Lyndsey and Harry who collected a point each for Moor Park.
Parker Cup - 2nd Division
Thormton CCC B (Wr) v Pebond B (Ru)
Second division league winners, Prebond B (Neal Hargreaves, john Whiteside, and Alison Lincoln) were pitched against runners up Thornton Cleveleys Cricket Club B (Paul Richards, Jeremy Newman, and Richard Clement). The match saw the league positions overturned with Thornton emerging 6-3 victors. For Prebonds, Neil won 2 while John won 1. Thornton's Richard won one game with two of his games being particularly hard fought five setters. Richard's game against John was one that got away, by a margin of 13 - 11 in the fifth set. Later in the night Richard won his other five setter against Alison. He did so with scores of 16 - 14 and 13 - 11 in the last two sets - phew! Jeremy won three games while Paul won one.
Handicap Cup - H/Cap Cup
Norcross B (Wr) v Mythop B (Ru) 108
The final this year was between Norcross B (Bert Taylor, Tony Scarborough and Wayne Stephen) and Mythop B (John Schofield, John Collins and Andrew Powl). Norcross had to chase down a handicap of 108 points. it is very much to their credit that they succeeded and emerged the winners with a 375 - 340 scoreline. Bert set Norcross off to a strong start with a 44 - 21 result against John Collins. Mythop fought hard but by the final game they were just that little bit too far behind. John Schofield won the last game 41 - 31 against Bert. Good table tennis everyone.
Order your tickets for our Presentation Evening on 10 May.